Money needed for veterans memorial


Thu, May 4, 2006

By DEBORA VAN BRENK, FREE PRESS REPORTER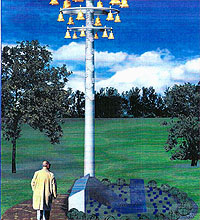 An artist's rendering of the Dutch bell tower for Victoria Park.
The plans are approved, the bells ordered.
Now, Southwestern Ontarians of Dutch background -- working to commemorate Canada's liberation of the Netherlands -- are scrambling against time to pay for the September installation of an 18-bell carillon in Victoria Park.
"We need cash -- and quick," said Pieter Teunissen, one of the movers behind the veterans' memorial in London.
Tomorrow, May 5, is the 61st anniversary of the liberation of the Netherlands by Canadian soldiers after German occupation during the Second World War.
Many of those Dutch citizens, and their descendants, now live in the London region.
A group of them has decided the monument, to be located near the cenotaph in Victoria Park, would be a permanent and visible way to show gratitude to their liberators.
The plan is to erect the bells -- being cast at a 250-year-old foundry in the Netherlands -- on an eight-metre tower and to have a stone marker with a map of Dutch cemeteries where Canadian soldiers are buried.
The plan now is even grander than the 11-bell memorial the group first proposed.
"It is our gift, first to the veterans and then to the city," Teunissen said.
He said he hopes the stainless-steel, maintenance-free carillon can be installed by mid-September, in time for Legion Week.
"That day, we want to have it working and we'll push a button and it'll play O Canada (for the veterans)," he said. (It will also be capable of playing 72 other tunes.)
The catch now is cash.
So far they've raised about $12,000, far short of the memorial's $200,000 to $250,000 cost.
Teunissen pegs the shortfall on lack of awareness by potential donors and is asking Southwestern Ontarians of Dutch descent to contribute.
Area veterans' groups and London city council have approved the plan.
The plan is also detailed online at
www.veteransmemorial.ca
HOW TO DONATE
- Tax-deductible donations for the memorial can be made to the Royal Canadian Regiment Trust Fund, Attention: Veterans' Memorial Fund, c/o 118 Woodrow Cres., London, Ont., N6E 1E8


City & Region Headlines

London's newest knight honoured for service
Two killed in chopper crash
Deal causes clash at city hall
Around the Region
MRI clears smoke from lung disease
Helmetless ATV rider hurt
People . . . You Know
City gets OMB tab
Plan targets global health-care workers
Teens charged in break-in, fire
Strike off as board, assistants reach deal
Lambton College sued by sculptor
Historians mourn 'invaluable' Ed Phelps
Six to eight men involved in abduction, police believe
Money needed for veterans memorial
London raid charges dropped
Tearful man admits guilt in friend's death
Man entrapped, court says
Man gets jail time for role in van theft
Mitchell house won by boosters of community
BREAKING NATIONAL & INTERNATIONAL NEWS